Our tours operate from the beginning of March until mid-December.
Bottled water, beautiful scenery, round-trip transportation.
Each tour is customized so it depends on your preferences. With that said, three to four wineries with a leisurely time for lunch is common.
A typical tasting is 60-90 minutes.
We have a 48 hour cancellation policy. A $250.00 cancellation fee will be charged on the existing credit card on file for a cancellation less than 48 hours in advance.
This is entirely dependent on the winery. Tastings commonly run $20.00-$50.00 per person at each winery. If the client chooses to purchase wine then it's not uncommon for the tasting fees to be waived.
Lunch, tasting fees and any other related winery, brewery or distillery purchases.
This all depends on the tour. Some wineries take you out on a vineyard tour, if not, a vineyard tour can be arranged.
We choose the wineries based on the clients' palates and love for certain wines. Every winery offers a flight of their still and/or sparkling wines available; some flights have different price points for higher-end or library wines.
"Wine tour casual". Nice, but comfortable clothing and always pack a rain jacket. Oregon weather can change in a flash.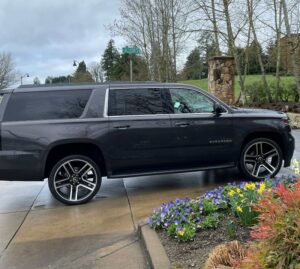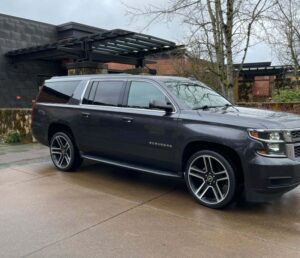 We have a 2018 Chevrolet Suburban LS that offers comfortable seating for up to 6 guests and the driver, complete with 3rd-row seating and leather seats. The vehicle also includes convenient features such as SIRIUS XM radio, a navigation guide, and media/Bluetooth compatibility. With ample trunk storage, you can easily store cases of wine, coolers, and other essentials for your trip.
Contact us so we can help answer your questions